Species of the Month Challenge – Dec 2019
December 1, 2019

-

December 31, 2019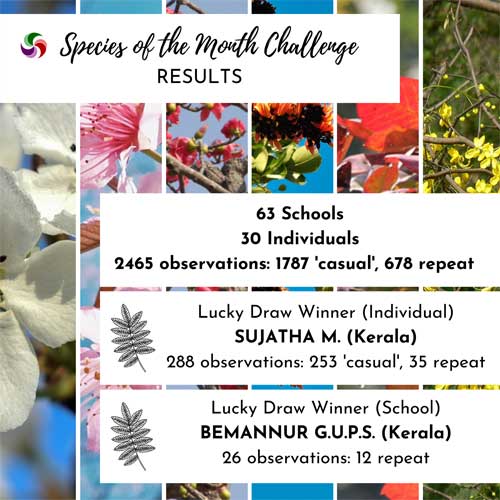 December will be the month of shedding leaves and emerging flowers!
SeasonWatch invites you to make observations on some very special trees all of December. This is our first Monthly Challenge and we are excited!
The goal of this monthly challenge is to make as many observations as possible on the 6 Species of the Month for December
Species of the Month
How to participate?
Trees can be observed in two ways
' Casual observations ' on 20 or more different trees of one or more of the Species of the Month. (see tutorials here)
' Regular observations ' in 4 consecutive weeks of December on a registered tree of one or more of the Species of the Month. see tutorial here
How to win a prize?
Everyone meeting either of these criteria gets a chance to be part of a lucky draw for the month of December! Two All-India winners (one school and one individual) of the lucky-draw get a special prize from SeasonWatch!